What Happened In San Luis Obispo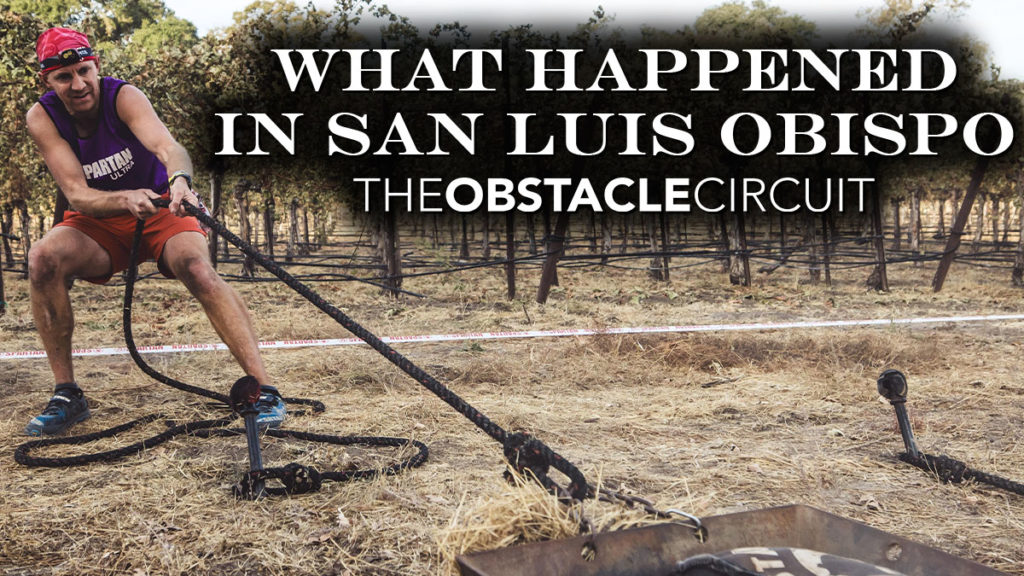 This isn't a review of the Spartan Race Ultra in San Luis Obispo. We'll recap more of the fun we had there in our next newsletter. There's been a lot of questions about what happened on course and following the race. So this is to explain of the situation that occurred from Coach Daniel's perspective.
---
I gotta set some context first as this year I had one primary racing goal and that was to podium a Spartan Elite Ultra. I had four opportunities on my calendar at the beginning of the year which was Montana, Utah, Kelowna and SLO. Montana I was dealing with a fatigue issues so I decided not to race. Utah Ultra was removed from this line up this year so it was a no go. Kelowna got canceled and replaced with Seattle, which on adding that race Spartan decided not to do an Elite wave so even though I had a dominate win it wasn't officially an Elite win…
Which brings us to this weekend in San Luis Obispo and my unofficial 2nd place finish! Officially I finished 4th, but things got pretty screwed up on course. The 1st place finisher and I ran together for the first roughly 11 miles. About mile 12 I was keeping him in my sights and 3rd was nowhere to be seen. I got on and off Tyrollean Traverse shortly after he did and then following the course markers we took off into a 1.5 mile hill section. The heights point on the course with about 400 ft of elevation gain and drop back to where the 8ft wall was. That's important to understand because the guys in 3rd and 4th at the time came in 4-5 minutes behind me on Tyrollean and instead of turning up the hill went straight across the flat section to the 8ft wall.
Now I did some research, cause it was very unclear what occurred during and after the race. I think I have a pretty good idea now what happened. Also there was a lot of talk of cheating and character for these two athletes and I want to clear that up and say I can understand this being an honest mistake, but still they skipped the whole technical 1.5 mile hill running and went roughly 0.25 miles on flat ground. At that point when I got to the 8ft wall I still thought I was in 2nd because I've been running alone. Also on the hill and with the trees I lost track of 1st a little. I knew he was close so I kept pushing forward while also trying to make sure I still had a good buffer in 3rd (who obviously now was in front of me with 4th).
Further down the course I'm feeling good in a steady groove and then suddenly come up Spartan staff talking to two Ultra guys. I didn't who they were. I hadn't seen them the whole race and assumed they were AG racers who skipped the Ultra loop or something. I jokingly said, "I didn't know you guys were ahead of me." Which a staff responded and said "They're not." This is where things get really unfair and throw me off the rest of the race. The staff had stopped these two and decided to have them wait there until the next guy (me) came to let them continue. So instead of doing the hill section like the rest of us and trying to chase me down they're penalty for cutting the course was to be released with me who had been beating by several minutes up to the point they went off course. This I learned later. In the moment they started running with me and they were fresh from waiting there a few minutes and I was so confused. I didn't know if they were in my heat or if they would be time penalized later. Suddenly I started panicking and racing to build a lead all over again and I became very frustrated and confused the rest of the race as we got into lap 2 they pulled ahead and I didn't know if I was still in 2nd or now 4th. Instead of chasing them I decided to just run my own pace, but still it bothered me the rest of the race. We finished and I wasn't far behind them and that's when I found out they were in the Elite heat and the results had them 2nd and 3rd.
I went to the results tent and not intending to get them disqualified or penalized I just wanted to know what happened on course. The staff said they had no idea. They looked at the splits and said it did look like their time was off. I explained what I saw on course. They then tracked down other staff to figure out what was going on and what to do and after an hour of waiting there to find out what happened they just told me they cut the course and I would be on the podium. Another note is podiums were at 4:30PM and at this point it was 1:30PM. Over the next three hours I kept checking the results to see if they updated and I checked with the staff several times, my last time asking 30 minutes before they kept telling me they'd get taken care of. I waited around all day in the heat and stood there during awards ready to get my Elite podium finally after all the work this year and they called the other two up for 2nd and 3rd…
So back to the staff I went again to find out what happened and they told me I should have been 2nd, but they decided to honor what they told the other two guys on course and give them their podium finish. I was frustrated, but that was that. In my heart I felt like Seattle and SLO I had achieved my goal even if unofficially, but I was still gonna be going home again with no winners plaque to show for it.
If you read this far I appreciate you and I want to leave it on a happy note, cause after the craziness of this year and the goofiness of the whole situation I did get my "unofficial 2nd place plaque" with sharpie to prove it! Thanks to the very thoughtful Faye Morgan who said she has too many plaques already and thought I deserved the 2nd place medal she won. At first I thought I'd just remove the snap on with the race info, but something about a rewritten unofficial titles (and clarifying I'm also not a woman) makes a more fun story than a blank plaque. I claim my goal has been achieved. It may not be official, but I'm leaving this race satisfied and thankful for all the supportive friends who've encouraged me and know what I'm capable of even when things aren't fair, but that's life and I got more races to train for next year and Spartan Ultras to be won!
-Coach Daniel