Ricochet Ninja Kids Classes Return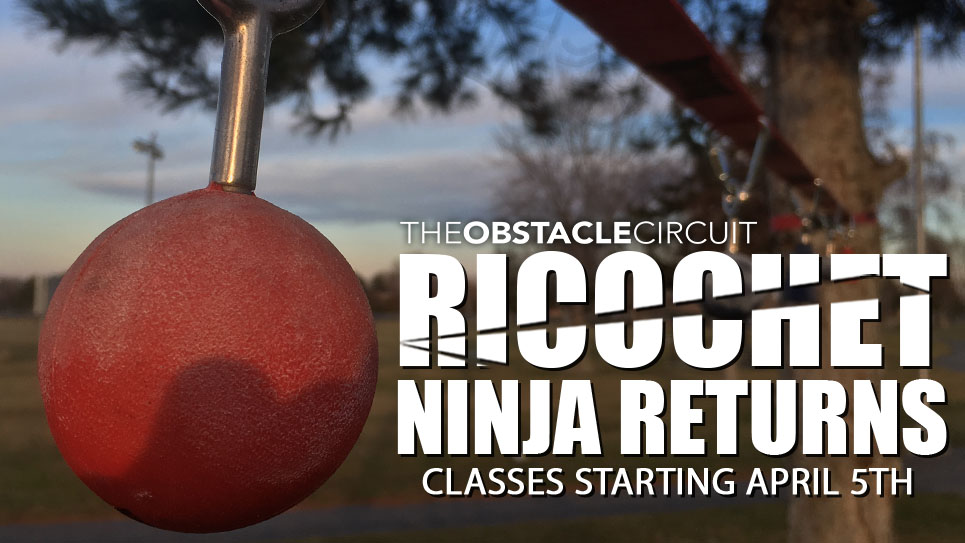 Get the latest Ninja Kids news at obstaclecircuit.com/kids
RICOCHET NINJA RETURNS!
We'll be kick it off classes Monday April 5th! It's the perfect time get your Little Ninja started as we'll be covering the basics and challenging new techniques to develop their fitness and motor skills. And for the returning Ninjas this is a perfect time to freshen up on their ninja skills.
Classes are designed to challenge kids to move more efficiently and safely. Teach them how to conquer their fears and doubts through Ninja Warrior style obstacles. Coach Daniel Elfers, an American Ninja Warrior competitor and Obstacle Course Racer focuses on building each student at their level. He is WFPF (World Freerunning and Parkour Federation) Lv 1-3 certified and has over 11 years of experience training adults and children in the fitness industry.
Ages range from Kindergarten through High School. Monday and Wednesday 6:30PM are High School ages only, and the rest are all ages. Your children will all be challenged at their own level during class and high schools can take any class, but also want to have special class times for high schoolers to able to training with their own peers and at a pace they may enjoy more. Classes will be held at Columbia Point Marina Park in Richland.
Columbia Point Marina Park
660 Columbia Point Dr
Richland WA 99352
First trial class is FREE to new students. There is currently space in all classes, but filling up quick and space is limited so please register your child ASAP.
Go to obstaclecircuit.com/kids to register your little ninja for a class!